Freshly back from the Architectural Digest Home Design Show and now I have a fever-aches? Oh well… in bed with my laptop.
Did you see the new sign up form at the top of the page? [well, duhhh] There's a terrific report filled with my best advice for choosing paint colors. If you're already a subscriber, then you've received the report and if not, then please subscribe and you'll be privy to it as well.
A lot of you have been asking me about and are stressing over your white paint trim colors.
And it's not that I blame you one bit. Did you know that Benjamin Moore makes some 150 different shades of WHITE?
To add to the confusion, we have a wall color and a ceiling color. Oh, and a floor color. That counts because the color might reflect on your walls and ceiling to some extent.
On top of that, we have lighting. We have trees sometimes; cloudy days and sunny days. We have different hours of the day and then there's night.
And there's more. I have seen this over and over and over. I had this situation in my old home. I painted the walls and trim [crown, wainscoting, baseboard] in my living room ONE COLOR. It was Pratt and Lambert Ancestral and I loved it. But one thing. The crown moulding always looked ever so slightly pink. No where else did it look like that. There was no pink in the room. And there is NO pink in this paint color. As a matter of fact, the colors underneath Ancestral are green! It didn't bother me, in fact, it was kind of interesting and it wasn't on every wall.
Other oddities I've found is off-white paint that looks stark white. Or cream paint that looks positively peach.
This is why white is the most difficult color. It's highly reflective and therefore can take on seemingly bizarre characteristics which are beyond our control.
And that's the operative word.
Control.
We believe that it's our right to control how our colors are going to behave and that's where I think the crux of the issue stems from.
We can't control it anymore than we can control the movement of the sun. Therefore, in the interest of getting on with more important things in life, like our families, friends, jobs and blog writing, I'm going to tell you one thing.
STOP STRESSING [so much] OVER YOUR WHITE PAINT TRIM COLORS.
[and for that matter, all of your paint colors]
Really Laurel? But what if the cream looks yellow or the white looks cold or gray?
Well, it's probably not going to because I'm going to narrow down the 150 to the only 6 white paint trim colors you'll ever need
Why six? Because I have found that these six colors cover the gamut and are generally reliable.
Still, you must test, test, test as always! And test the paint in the can to make sure that everyone understood what to order and mixed it correctly!
First, I'm going to tell you some other things you need to know
about white paint trim colors that I think will be helpful.
For walls with colors, certain colors like blue and yellow will look horrible if the trim is slightly beige, pink or dirty gray.
try to pick one white paint trim color for your entire home.
you don't have to do this, but if possible, it'll make your life easier
if you're doing a white kitchen, it will also be in the same white as the trim
paint your ceiling in the same color
this is not an absolute, but a perfectly valid choice. My old living room ceiling was a beautiful pale aqua called pistachio. I loved it!
AND, if you want white walls, paint those the same color too!
But, Laurel, what if I want the moulding to pop and I want contrast between the wall and the moulding?
Right… cause you're going for that "wow factor?" It can be plenty wow if painted the same color. Most of my clients don't want it to be the same color and I specify two different colors for walls and trim.
Here are some lovely examples of rooms where ceiling, trims and wall are the same color or almost the same.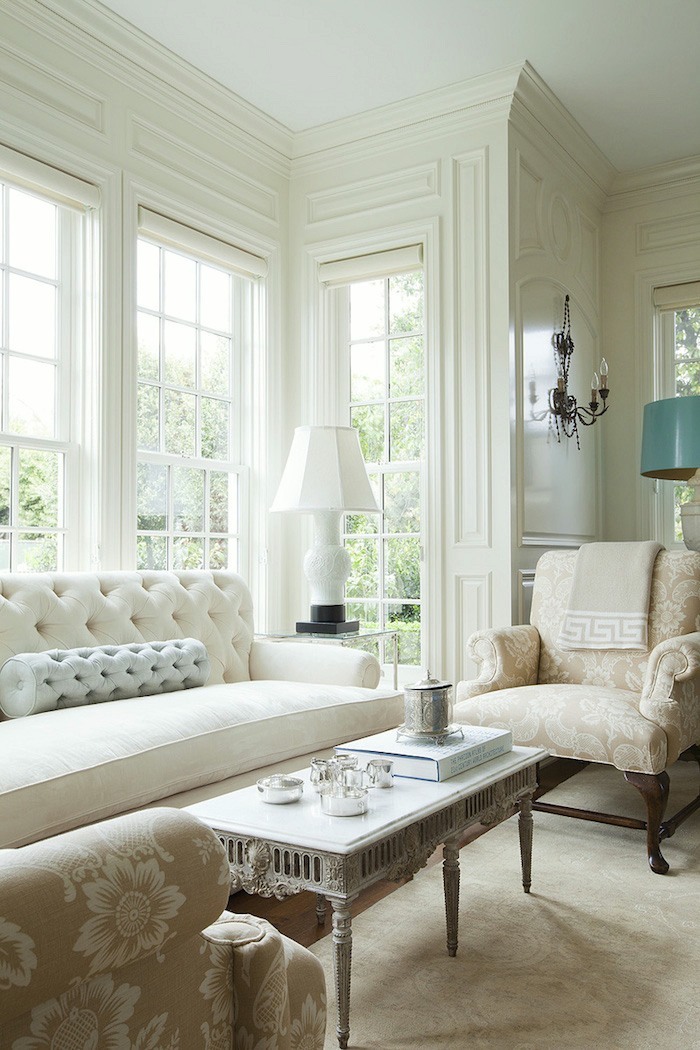 Buaia Burdge Architects
Have you ever seen such beautiful millwork? Just yummy!
Rose Uniacke
home of Adrienne Vittadini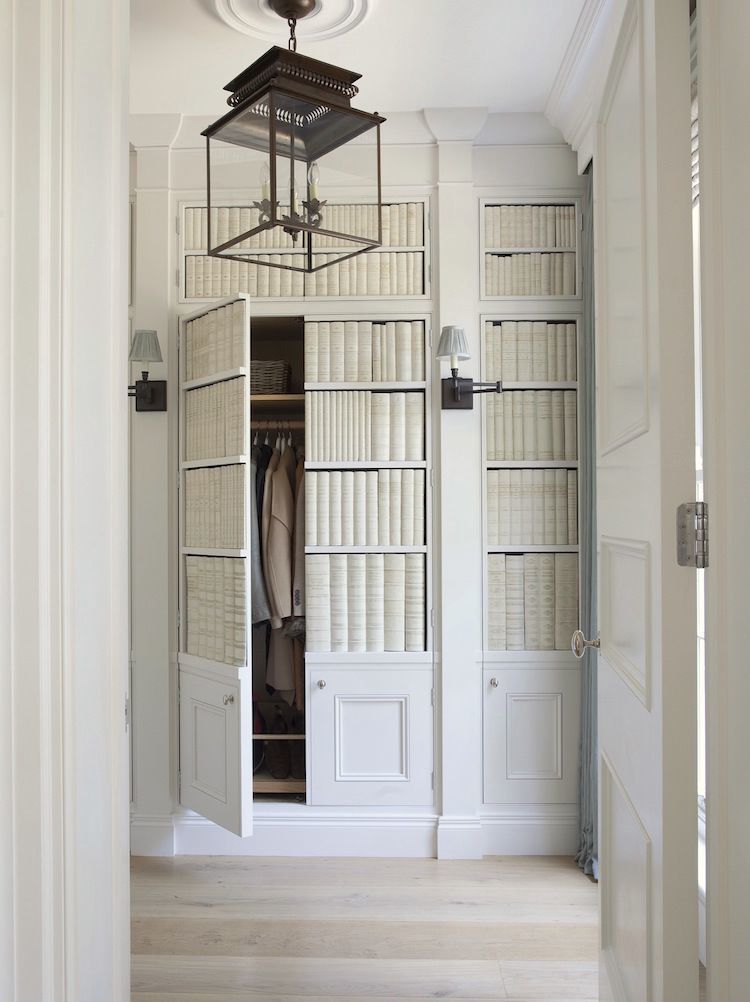 Hayburn & Co.
Don't you just love those closet doors? Faux books source is here.
Dungan Nequette
Who was it who said that an all white kitchen is so cold?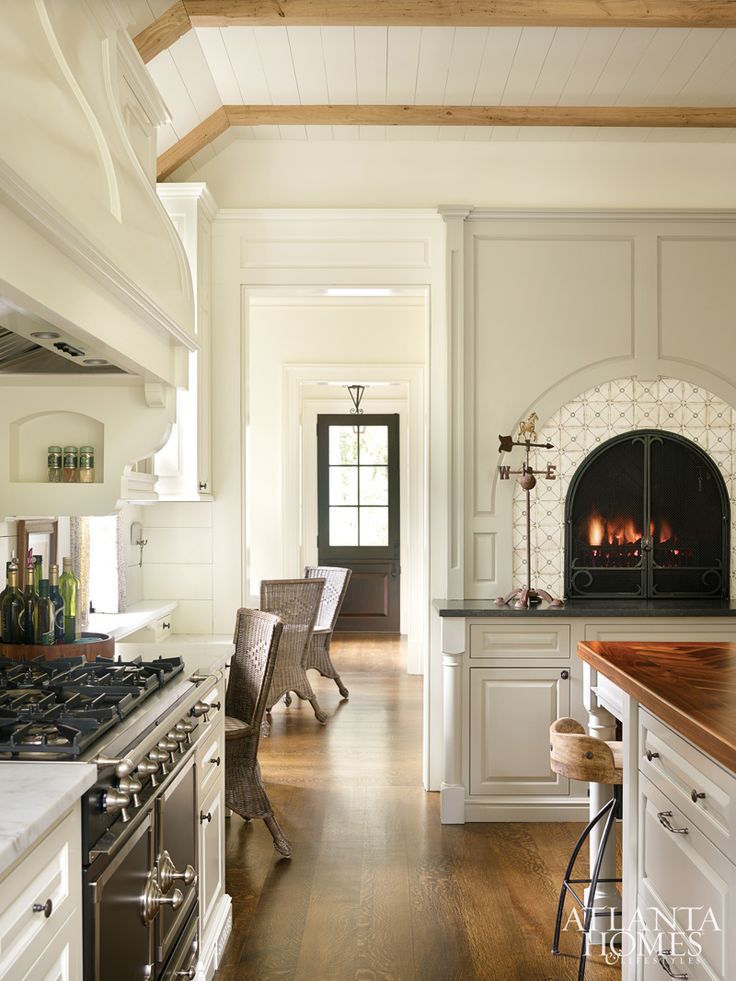 Frank Neely
This was a winner at the Atlanta Homes and Lifestyles Kitchen of the Year. Stunning! It appears that the range surround is painted a deeper color. I say "appears" because I have seen situations where something looks like this and it's the SAME color!
Loi Thai
I was a bit upset about this because I know that this is Loi's home, however, I could not find one photo on the internet that credited him. It drives me nuts when someone credits photos to pinterest!
Ta dahhhh… the Only 6 White Paint Trim Colors You'll Need
White Dove OC-17 – the universal donor of paints. It almost always looks great. It is a white with a touch of cream and a touch of gray without being dirty– usually.
Cloud White 967– a touch brighter with a very slight taupe undertone, this is a great non-yellow white, but still warm
Simply White OC-117 – a very clean white, but might be too bright for darker colors
Cotton Balls OC-122 – another universal donor. Very much like white dove but virtually no gray
Linen White 912 – It's usually not my first choice for walls unless the space has good lighting. But this is often an excellent choice for deeper colors like browns and golds. Fair warning, I did recently see this looking peach which I had never seen before.
Ivory White 925 – Another lovely cream that's a bit brighter than linen white
Are there other great colors? Yes, of course, but I'm trying to simplify your life. With some of the colors, the difference is so minute anyway. If you want to see the entire list of wonderful whites, here is a list of 20 great shades of white paint.
I read recently that there is no such thing as "plain white" from Benjamin Moore,
but that is not true.
I have a can of it because that was what was used in my apartment for the trim and ceilings before I bought it. For the ceiling it's White N215 01. [that's the flat formulation] It has different numbers for different formulations. Most of the time it is fine, but sometimes in the living room reads as being too white. I don't really ever notice it however.
In the bathroom, I really like it with my pale gray, Shoreline walls. I didn't put it on the list because over-all, I like simply white better. However, plain old white is often an excellent choice for gray colors.
Another color that is good sometimes is decorator's white. It is also good mixed half and half with either linen white.
What are your favorite white or off-white trim colors? Have you ever made a whopping mistake that the rest of us can learn from?
For those who are waiting, I will be getting back to green. After all it's spring—-
They say. haha!
Some Favorite Posts About White Paint Colors For Walls and White Paint Trim Colors
For my very favorite shade of white paint click here.
Are White Painted Walls Boring?
White on White Decor Inspired by a Top Magazine Stylist
Do You Live With a Drove of Pigs But You Want To Decorate With White?
And What About Your Ceilings? Must They Always Be White?
xo,