The other day, I received some nice words about my bright, sunny interiors. And make no mistake, I love color– saturated color. But I also love muted, pale, grayed-out color, creams and white.
Those pale subtle tones always make me think of Gustavian Swedish colors and furnishings. Is it possible to love both? Intense color and pale/muted?
Well, this girl does. And there's something else that I found out. The Gustavian Swedish folks of the 18th century didn't just love pale, pale, grays and blues, etc. They ALSO loved intense saturated colors!
I know. I was surprised too. My first hint came when I discovered this Stockholm Shocker. 
But then, as I was researching for this post which by the way, was a lot of fun, I discovered a lot more than I realized about Gustavian Swedish color palettes.
Since this is a pretty big subject, I'm going to break it up and I'm also going to be giving you a fabulous palette for the most beautiful Gustavian Swedish colors. So, stay tuned for that.
I may not run these posts concurrently, because I find that people either think it's the same post or get bored and want to read about something else for a bit.
The Traditional Gustavian Swedish colors; the pale muted grays of every hue remind me of winter.
And well, here we are. Therefore, as part of the narrative of this post, I'm going to intersperse winter seasonal images, many taken in the Swedish countryside. You will find a correlation between the colors found in these images and the traditional Gustavian Swedish color palette. I find these pale colors so relaxing and comforting. So, prepare for a Gustavian Swedish eye-candy-spa!
But first, a brief history
This is for those of you who don't even know what I'm talking about when I say Gustavian Swedish furnishings, colors and such. When we speak of the Gustavian style, we are referring to King Gustav III who reigned as monarch of Sweden from 1771-1792.
In addition to his royal duties, Gustav was a patron of the arts and had a keen passion for all things design, decoration and fashion.
painting by Alexander Roslin of King Gustav III of Sweden
Okay. okay. I know. He was an out-and-out fop. lol. Well, not completely out, if you know what I mean. ;] But after-all, it was the 18th century. I have to say that Gus had a lot of class, style and an impeccable eye for color and design! And to this day, there are Gustavian Swedish aficionados (myself included) who are incredibly grateful.
Tragically, Gustav was assassinated in 1792 and although survived the assault, died days later from an infected wound.
Before his death the foundation had been laid to build the grandest neo-classical palace in all of Europe. Gustav was really into this stuff. Sadly, his successors weren't, so all construction stopped immediately.
Neo-Classical Palace at Haga Park
 Here's what it was supposed to look like.
Geeez, dude had some serious cash at his disposal; not surprised some folks hated him. But alas, it was like that in France and elsewhere too. Apparently, it's risky business being a filthy stinking rich autocratic monarch who loved to live the high life!
Wait. I need to backtrack a bit to explain how we got here. Before all of this new construction designed by architect Olaf Tempelman, Gustav had spent time in Versailles  hanging with his buddy, King Louis XVI.
While there, Gus was absolutely kvelling over the neo-classical style of architecture and design. Oh, they had just discovered Pompeii and all of that good stuff and the French were obsessed. Out with all of that curly-cue-fancy-shmancy Roccoco and on with the more sleek, streamlined lines of neo-classical furnishings! Gustav fell in love.
Back home at the royal ranch(es) (more about that in a sec) Gustav further interpreted the style. It became even more clean-lined and some pieces retained their own unique interpretations.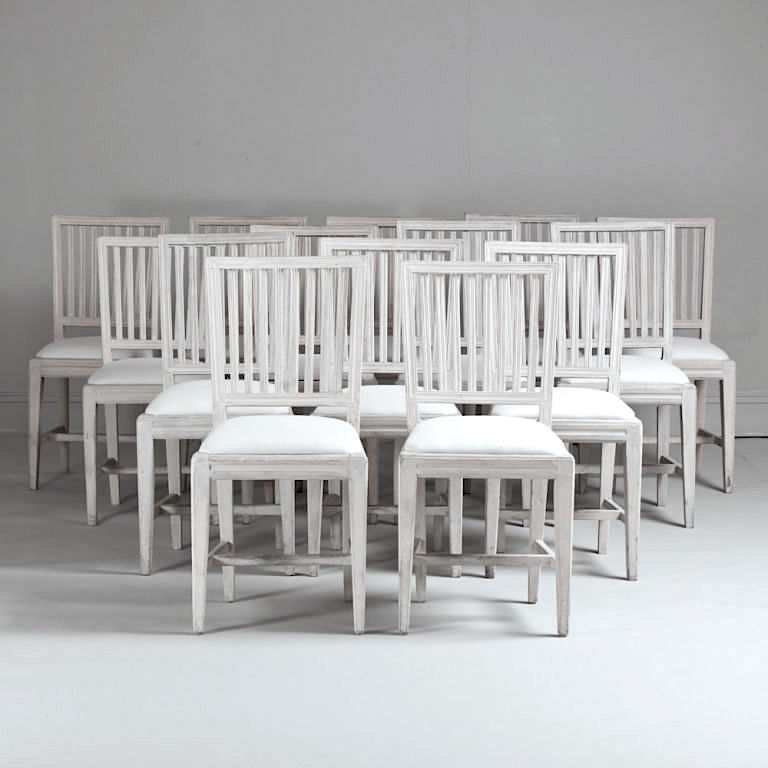 Leksand Gustavian 19th c. Swedish dining chairs via 1st Dibs– only $20,000!
Much more Gustavian Swedish furniture coming later.
And as always, if you want the creme de la creme of Gustavian Swedish Antiques please check out my dear friend and expert in the area, Loi Thai of Tone on Tone Antiques!
Here's Gustav hanging with his two bros. in a painting by Royal artist, Alexander Roslin, once again. Gustav would be the one in gold, I believe. Uhhhh… not very muted here, is it? Well, except for their hair! Handsome boys, they were! But please also notice the neo-classical gilded swag on that writing-table.
Check out that beadwork!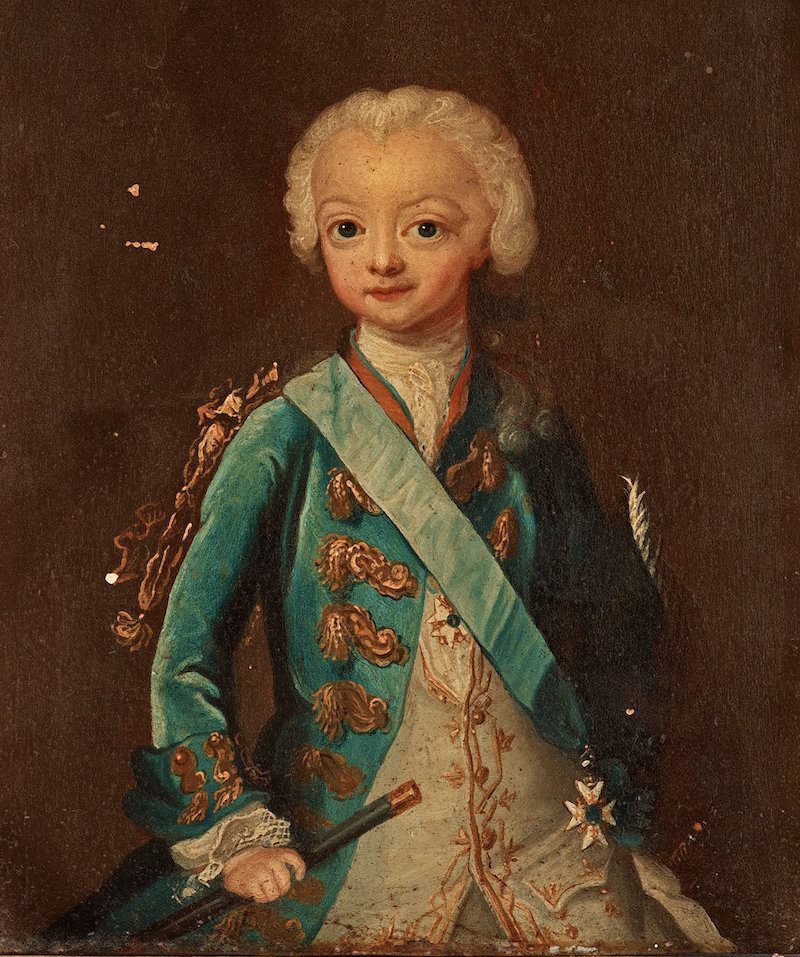 painting by Ulrika Pasch
And here's ten-year-old Crown Prince Gustav, already looking ready to rule and wearing Pantone's color of the year 2013– EMERALD GREEN!
Gustavian Emerald?
In addition to a fabulous wardrobe, Gustav had several residences. I mean when one loves so many styles of design, it is only natural that there would be numerous abodes to showcase them in. Right?
This is going to be as brief as I can make it, but this is the main pavilion at Haga Park designed by his Architect Olof Tempelman. I guess the main palace at Drottningholm (see below) was too overwhelming for him? Or maybe… never mind. He had lots going on, obviously. :]
Small dining room at Haga with gilded neo-classical dining chairs and Gustavian Gray walls!
A bedroom at Haga with gilded neo-classical fauteuils and commode. Well, the floor is the characteristic silvery gray! Love the pale weathered floor!
This is the main palace at Drottningholm
Temple of Echo in Haga Park
The Chinese Pavilion at Drottningholm
Chinese too? Yes. Chinese too! Isn't it wonderful? Chinoiserie was all the RAGE in all of Europe in the mid to late 18th century. This was built when Gustav was a little boy.
Värdshuset Koppartälten
Translation. Copper tent, also in Haga Park. Very interesting. This is obviously, the artist's rendition of it. It was built and it does still exist, but frankly, I think it's pretty ugly as it's now painted in a neon-bright blue, not the charming far more subtle striping you see here.
Ah, there's our Swedish Gustavian that's familiar! This is a room from the Pavilion that Gustav built.
The style that Gustav reinvented was so popular, that it trickled down through the gentry and then to the country-side.
For the middle classes, the woods available were not so grand, so they took to painting the furniture.
The most popular colors were often pale shades of cream, gray, blue, green and ocher, that we have come  to know and love, but not always as we shall see later on. The use of pale shades is known to be a result of the long, dark winters, so as to let in as much light as possible.
Photo via Not Over The Hill
Masreliez House
This beautifully preserved home is a design by Gustav's interior decorator Louis Masreliez. It is chock-full of neo-classical elements.
Svindersvik
This is another beautifully preserved home from the mid-18th century and then renovated in the Gustavian Swedish neo-classical style in the late 18th century.
Winter Gärdet – Stockholm, Sweden – photo by Hans R
When we think of Gustavian Swedish, we think of the more common styles that have layers of paint and interiors with softly dappled walls. While sometimes it's difficult to tell if a piece is Swedish or French some pieces like the traditional Gustavian Moro clock are 100% Swedish!
Swedish Interiors
 original source unknown
Gustavian Trågsoffa, via Skona Hem
The legs are French but the chair back is what gives it away.
These last three images are more what we expect to see when we think of Gustavian Swedish Style, but hang on— much more to come and more surprises! I hope that you enjoyed this post! If you want to see more, here's a post on Gustavian
Swedish furnishings
that I did a while back.
xo,