As you can see, I'm doing my very first ever giveaway! All you have to do is enter your name and email and confirm and voila, you'll be in the running! These are extremely high quality porcelain vases from Legend of Asia and are exact replicas of antiques like this rare beauty.
However, I like the shape of our giveaway vases better.
Here is a closeup.
FYI, the Chinoiserie Blue and White Porcelain Vases measure 8.5″ at the widest point x 16″ high.
*********
While we always think of red and green for Christmas, there is no reason why it has to be so or why we can't introduce other colors. And besides, blue and white porcelain— goes with everything! So here are some inspiration images for decorating with blue and white porcelain for the holidays.
It's always wonderful to display collections of like with like and I can't think of a better combination.
Mary McDonald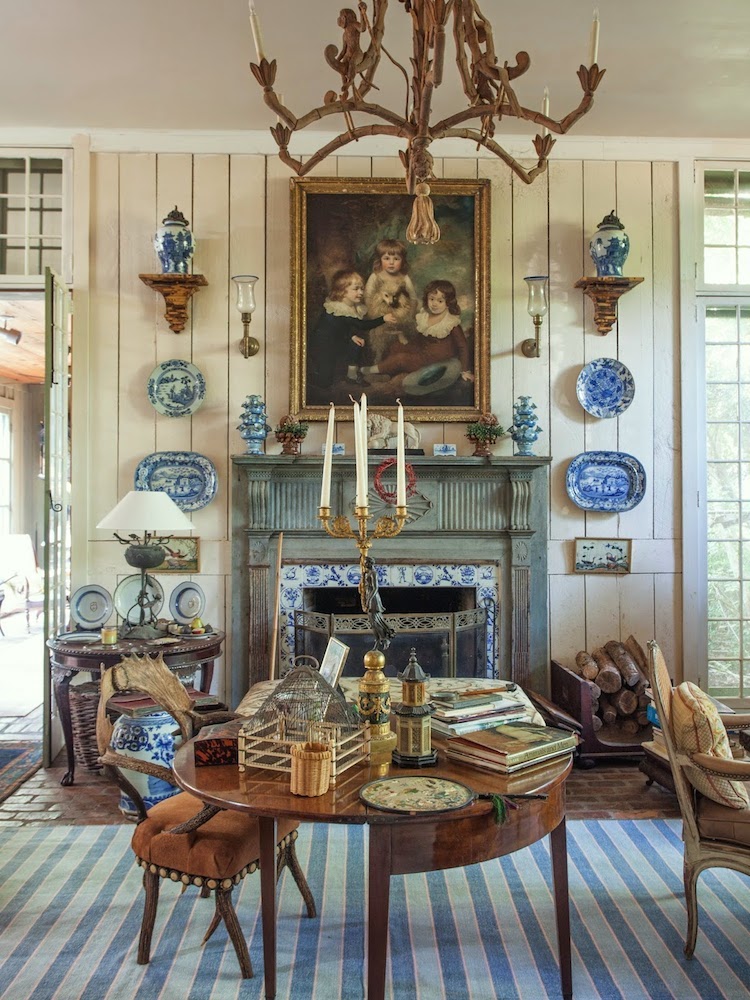 Furlow Gatewood
Another superb display by Bunny Williams.
This is a good time to point out something that y'all might have wondered about. How do you know if a vase or whatever will fit on the mantel? Oh, it never crossed your mind? Well, it might if your mantel isn't very deep. However, take heart. If your mantel is say only 6″ deep, you can still get away with something that's deeper. Here's how to know if it'll fit.
You only need to have the bottom sitting on the mantel. Therefore measure the diameter of the base. Let's say it's 4″. Then, draw a plumb line down from the widest part of the base to wherever it's sitting. Make a little mark on a piece of paper sitting under the vase. If the amount is two inches or less between the mark from the plumb line and the beginning of the base, then it'll fit. In other words, you could have a vase or jar that's 8″ in diameter and it'll be okay to sit on the fireplace mantel that's only 6″. Therefore, you should be in great shape if you win the vases, if your mantel is only 6.5″ or larger.
And George
Pretty Scandinavian blue and white all the way around vignette.
Don't forget to scroll back up to enter the giveaway! [or use the annoying popup lol if you didn't already shut it down.] And if you're not interested, but know someone else who might be, please pass on the info.
xo,