Alright, I'm back to finish the post on GRISAILLE MURALS, wallpapers, art, screens and even some furniture!
I was debating dividing this up into two posts, however, I want to move on to other topics. If you missed part I, you can see it here.
I think that this is also DeGournay. I want to emphasize that grisaille could be part of a very colorful scheme, or not.
Room by Bethany Travis. You might remember this photo from the post about how to find the source of an image on google.
Gorgeous grisaille tapestry. (source unknown)
I've shown this room before by Frank Babb Randolph in this post on coffee table styling (which you can read about here). I'm sure that I'll post it again at some future date. It is one of the most jaw-droppingly beautiful rooms I've ever laid my tires eyes on. And what totally MAKES it are the two A-mazing antique grisaille screens. But the way it all works together is a study in great interior design.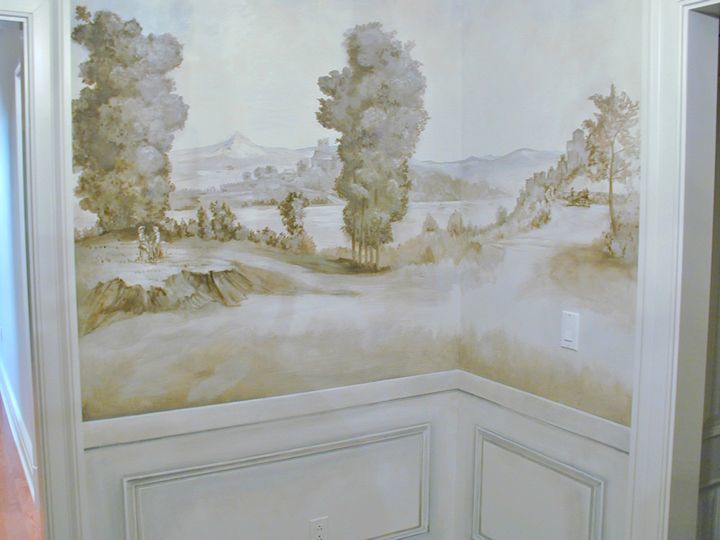 Love this painterly mural by Nicholas Crowell
I found this here. I do not know who these artists are, but love this grisaille mural.
DeGournay mural photographed by Ian Nolan. Love the infusion of color into this mixed color and grisaille piece.
Sorry, I don't know the source and I wish the image were of better quality, but just love this grisaille mural going up the stairs. Great way to hide greasy finger prints too! ;]
(source unknown)
Degournay paper in what looks to be the lady's restroom in Moisman's private members restaurant, in London. Sounds expensive, no?
Peter Mikic Pembridge Gardens
Sergey Konstantinov
Ananbo
Have no idea how I happened on this extraordinary site of hand-painted artwork and murals. Just exquisite work!
Alright. This is interesting. It's Anthropologie's Etched Arcadian Mural. From a distance, it's really cool. Here is the close-up below. It kinda loses it's allure and lots of the reviewers think so too… Still, I could see this on an accent wall in a loft or a bedroom. Let's just call it a graphic interpretation of grisaille. And in that sense, it's very cool, I think. Oh, and a tiny fraction of the expense of the hand-painted grisaille murals from the likes of DeGournay.
This is Ivy House (could not find the link)
19th century Zuber screen
More beauty [above and below] from Ananbo
The next three images are from Tara Shaw
The office of one of my first interior design idols— John Saladino
source unknown
Phoebe Howard exquisiteness
And I nearly fell over when I saw the incredible colors in this beautifully done mural incorporating  grisaille which gives the piece a feeling of not being over-worked. Really well-done!
For part I of Grisaille Murals click here
xo,

Save