One of the best parts of my job is going into people's homes and helping them create a beautiful and functional place to live. Every situation is different, but over the years, I've seen a lot of mistakes and/or hear some preconceived ideas that may not necessarily be true.
*(The "don't photos" are not credited. )
FORGETTING TO CREATE A SENSE OF ENTRANCE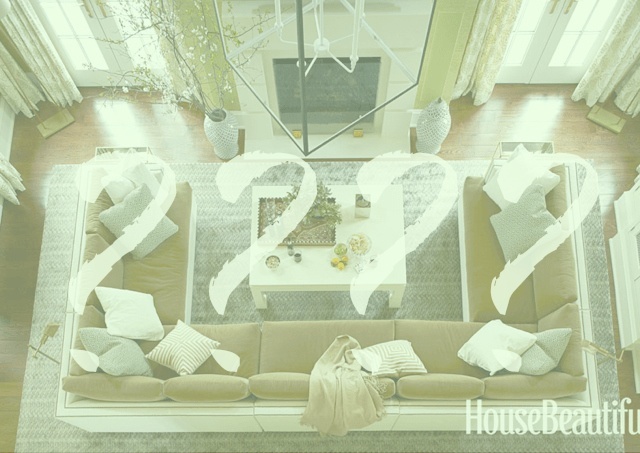 What is wrong this room Laurel? Hey, it was in House Beautiful, so what gives?
Actually, I think it's a very lovely room– very well done, however, if you are entering the room from the back of this very large sectional, you have to walk all the way around to sit on it. (unless you want to jump over the back.) ;] That is a big no, no in space planning as there is no gracious sense of entrance  into the room (Thank you Maggie Cohen my wonderful space planning professor at the New York School of Interior Design, 25 years ago) and it is blocking off the energy into the room.  So, unless this is a very open concept kind of home, OR there are two entrances, on each side of the sectional, I would not recommend this layout.
THE CHANDELIER IS TOO BIG
Pretty room but this chandelier is way too big for this very skinny table. (actually, the table is ridiculously skinny and in this case the bigger problem!) Good rule of thumb for dining chandeliers: The diameter should not exceed the width of the table by about 10″, so if your table is 42″ wide, I would not do a chandelier more than 32″ in diameter– tops. This chandelier is also hung a bit too low. Generally, it should be hung about 30″ above the table, but sometimes it can be a bit lower. This is too low, I think, especially because the inhabitants of this table will be black and blue from knocking into each others' knees and feet and then they will conk themselves in the head on the chandelier. They will hate you. In addition, you should have at least one foot between the tallest point of the chandelier and the ceiling as an absolute minimum.. So, if you have an 8′ ceiling, the maximum height of your chandelier or pendant can only be about 24″ tall. Table height is  at 30″ + 30″ + 24″ + 12″ = 96″
THE CHANDELIER IS TOO SMALL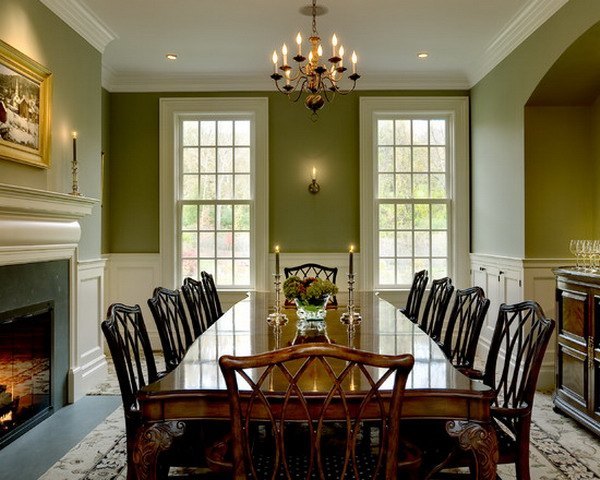 and waaaay too high, in this case. This is a crying shame, because otherwise, I think that this is a very pretty dining room. (and I love that they left the windows bare.) One other consideration is room size and ceiling height. This is a generous dining room with a large table; the table is probably about 42-45″ wide. The room height is about 9′ to the ceiling. This chandelier looks to be about 24″ in diameter. I think that a good size diameter chandelier for this table would be an absolute minimum of 28″ (and with more going on than this, like some crystals) but more like 30-34″.  It also needs to come down about 12-18″ +/-. Hard to see exactly from a photo.
Also, please be careful with table lamps. They keep getting bigger and BIGGER AND BIGGER!!!  
(this topic requires it's very own post)
I'M JUST GOING TO MAKE LIFE EASY FOR MYSELF AND BUY FURNITURE THAT'S A MATCHED SET.
okay… zzzzzzzzzzzzzz…
but really. no. please. don't. This look went out with the cold war. (if it was ever truly in.) Today's rooms look like they evolved and actually, rooms done 200 years ago looked that way too. Nothing screams middle class mediocrity more than a matched set of furniture!
Here is a beautiful, but still traditional dining room that demonstrates my point.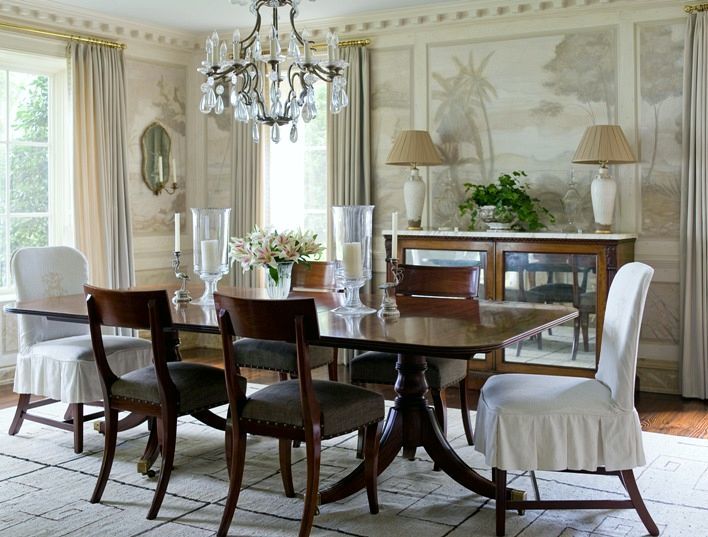 by James Michael Howard. (aka: Jim Howard, husband of Phoebe Howard)
This is a perfectly executed dining room. The chandelier is in perfect proportion to the room and table and hung at the perfect height. The furniture is not a matched set but looks great together as the lines and colors are complimentary. The rug is contemporary, but elegant which gives the room a fresh note. Barbara Barry has said, "complexity is what makes rooms, rich." And she's right. And then, there's the grisaille wall panels that actually makes me nuts. (in a good way)
BEIGE IS SO  BORING. I DON'T WANT TO SEE ANY BEIGE OR BROWN, LAUREL. OKAY?

Of course, I will never make you do anything you don't like, but beige is not boring if you do it right! Really! It definitely is already on its way to being quite interesting if you call it mocha, cafe au lait or biscuit. :]
A beige by any other name would still be gorgeous! (if done right!)
This is how you do it right.
Gorgeous, elegant "beige room" by John Jacob.
So what makes beige work?
varying the shades of beige

adding in deep hues like brown and black

adding in accents of white or cream or pale, pale grey

adding in accents of color (everything goes with beige!)

adding in touches of metal be it gold or silver

use of varied textures, linens, velvets, damasks, natural fibers, etc.

sophisticated furnishings
This is why you think that beige is boring and brown is depressing and why if you're not careful, it will look like you smeared Crest Toothpaste all over your walls.
Why doesn't this room work?
dated, tired, cheap, fabric

boring orange-y prefab floor

mint green walls (go grayer and darker than you think the hue should be)

the rug is way too small

insufficient and horrible lighting

a ceiling fan with a light. just no.

popcorn ceiling (in FL, you can get killed for throwing popcorn!)

nothing on the walls

dated, dowdy, flabby furniture which is overwhelming the sickly, bare hospital green walls.

and yeah... the cheap, shiny, polyester drapes are getting ready for the flood. 

(and they're hung too low from the ceiling.)
But Laurel… We don't have big mega budgets like your other clients and we only have 5,000 dollars–tops.
First of all… all of my clients are very budget-conscious and a lot of them don't have as much as you might think to spend on furnishings. Yes, they have a bit more than 5k to spend, but here's what you can do with 5k to take this room into the here and now and with great style! Here's what I would do if I had 5k to spend to update this room.
Purchase some custom slip covers made with cream cotton duck for the two sofas.


Buy some 96" ready-made drapes hung much higher. (West Elm is having
 a sale and has many beautiful things-- cheap!)

Buy a new sea grass rug in a 9x12. These are sold everywhere are not expensive

Buy some new updated end tables, lamps coffee tables. Try places 
like West Elm or look on Ebay or Craig's List for some great deals

Paint the walls a deep rich gray like Benjamin Moore Chelsea Gray or
 Gray Mountain. These sophisticated colors will make  the sideboard look
 more like an antique

I would add a comfortable club chair which could be in the cotton duck or a coordinating print.
That is what you could do with this room for 5k and will be beautiful! If you have a bit more, you can hire a contractor to put up 1/4″ sheet rock and cover up the popcorn ceiling.
THE AIR IS STALE AND HOT AND I NEED SOME LIGHT AND SO IF I GET ONE OF THESE (ATTACHED TO MY POPCORN CEILING), I'LL BE GOOD TO GO!
The person who decided to manufacture these should be shot at dawn and then all of his descendents who decided to sell their souls and continue to manufacture these atrocities should be taken away, locked up and made to listen to Tiny Tim singing Tip Toe through the Tulips and be forced to stare up at one of these— all day long!
(note: To be clear, I love fans–particularly in sunrooms and for people who live in warm-weather climates. However, a simple classic white fan for most rooms with a light or white ceiling and no headlights please!)
THE FURNITURE IS EITHER OVERLAPPING OR [SHUDDER], LINED UP AGAINST THE WALL!
no. Even the old cougar on the TV screen is horrified.
I NEED TO FIGURE OUT THE ROOM'S THEME AND THEN JUST RUN WITH IT

.

RIGHT?
When I was having my second child, a good friend asked me what was the "theme" of the baby's room? She was horrifed to hear that I had no "theme." You don't have to have one either. And if you do, please keep it subtle. (very subtle)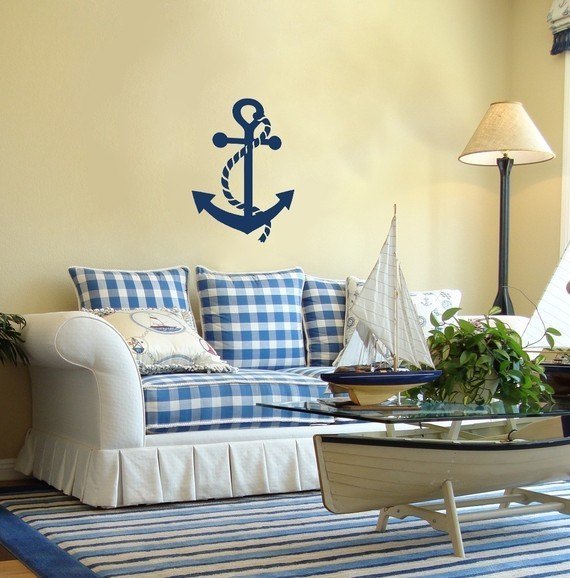 Anchors Away!!! LOL
CEILINGS SHOULD ALWAYS BE WHITE.
Actually, if you want your ceiling to look higher, you must paint it  a darker color. This topic requires its own post too. But in the meantime, please take a look at this room and tell me if you still think that a ceiling must always be white.
and sometimes… we just have to throw the rules away…
sometimes. :]
Save
Save