Today I was working on a window treatment design for some wonderful clients who've recently moved to Larchmont, NY.  Generally, I have always been of the "less is more" when it comes to window treatments. However, not always. Sometimes, there are some clients and/or their homes that just require something more. And this is one of those cases.
My usual stand-by for years has either been Roman Shades or simple drapes hung with rings on a wrought iron rod. In earlier years, I sometimes did valances instead of the rod, but its been years since I've done that— until now. The "Larchmonts" (I'll call the them) are very traditional, however, they also are open to broadening their horizons to some extent. Mrs. Larchmont expressed the desire to have something with more "flounce" and so, in addition to the draperies, we are doing valances. Their home was built in the 30's and it just feels so right, for them.
At first, I thought that we would do an adaptation of a window treatment done by the Great Charlotte Moss, that I have always admired. In fact, this photo has sat in my window treatment idea book for about 15 years.
I don't know why exactly. But it just wreaks of great taste, style, old money, class and charm. I guess that's why. haha! So, we chose a really well-priced floral linen from duralee.
This one.
When its done up, it'll be indistinguishable from the 250/yd. stuff from Colefax and Fowler and the like.
And we were all set to do a subtle curve for the windows, sans the fringe. The only problem that I discovered, when I drew it out was that on the wide bay windows which are nearly 8 feet wide, the curve just didn't look so hot, IMO. So, I went back to the drawing board and went with plan B which is a valance with simpler pleats and more curves to break up the long 8 foot expanse of window. As I was searching for images, I came across a really beautiful one, by the wonderful designer and architect, Jim Howard, husband of "Mrs. Howard" (aka: Phoebe). What a formidable team they are!
And voila… the perfect idea to take off from. Now, all I have to do is to make a template, so that the workroom gets it exactly right. One thing I've learned in this business is to spell everything out.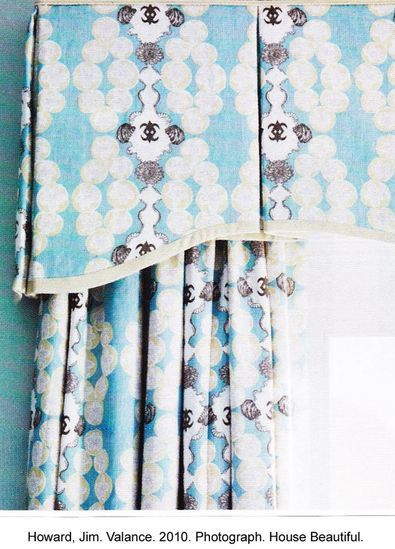 Here are some other beautiful valance ideas that Jim Howard has created and were featured in the same House Beautiful article.
Love Jim and Phoebe's work. If you'd like to see more of them, please check out their website:
And also Phoebe's blog is really terrific too!
*********
The website has had to take a bit of a back seat this week. Not only did my oldest son, Cale graduated college two days ago, (from New England Conservatory in Boston!) my nearly 90 yr old mother found a buyer for her home in Wisconsin and has to move in SIX WEEKS!
Alright, alright… here he is, with my y0unger son, Aaron who's a pretty nasty musician as well.
Cale saw my blog the other day and said, "so its an interior design/mommy blog, huh?"
well… yeeeeaaaahhh… after-all… Its ALL connected!
my best,
Laurel